by Fred Minnick
In Noblejas, Toledo, every house was once a winery. Driving through the small village in the Toledo Province, you'll see iron-bar covered windows in the 17th Century homes that once stored wine in large clay vats.
Families would grow their grapes in nearby land, press them in the family courtyard and store in large containers inside their basement. Most of these cellars are vacant of wine today, but one Spanish winemaker is restoring his family's 17th Century subterranean cellar.
Vinedos Y Bodegas Muñoz is proud of its family heritage and is trying to give visitors a slice of yesterday's winemaking practices.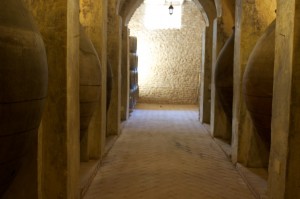 Walking through Bienvenido Muñoz Crespo's home's new cellar is like walking back in time. The clay and limestone tile floors, along with the chilled air and rock walls, make you feel like you're living in 1650. Of course, instead of torches, Vinedos Y Bodegas Muñoz has electricity and there's romantic opera playing in the background. But, the cellar is a connection to the past, a lovely feeling when sipping wine in this ornate cellar.
While Vinedos Y Bodegas Muñoz will experiment making wine in the refurbished cellar when it is completed, perhaps making a Crianza, the Muñoz family is certainly a pioneer for La Mancha winemakers. Vinedos Y Bodegas Muñoz has a strong commercial operation that spans three generations and 30 countries.
It started as a small plantation that has grown into 100-hectare operation growing Tempranillo, Merlot, Macabeo, Chardonnay and Syrah with sales in 30 countries, including the United States.
Like many families living within the DO La Mancha, Spanish wine runs through their veins. Only now, Vinedos Y Bodegas Muñoz has become one of the most unique family-owned wineries in the region. Under the labels Artero, Blas Muñoz and Legado Muñoz, Vinedos Y Bodegas Muñoz is producing magnificent wines that are amazing value and are winning numerous awards around the world.
Their land is located in the heart of Toledo. Its shallow and unfertile marl soil provides low-production yields but gives grapes great concentration and aromas, according to the winery. The high heat, cold winters and low-humidity also allow Vinedos Y Bodegas Muñoz to grow grapes organically because the natural conditions kill bugs.
As for the wine, I personally think they make some of the best Spanish Chardonnays. Their 2004 Blas Muñoz Chardonnay earned a Gold Medal in the French contest "Chardonnay of the World." But, they are so much more than just Chardonnay or awards. They are a strong family looking to improve the La Mancha's quality with every vintage, Bienvenido says.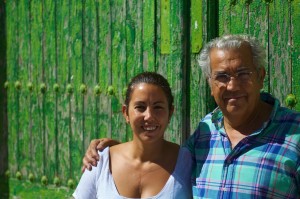 "La Mancha has been associated with bulk wine for a long time, but the future of this region is in the quality," he says. "We are making some excellent wines in this region."
As for Vinedos Y Bodegas Muñoz's future, well, Bienvenido has several grandkids waiting to pick grapes.
A Few Tasting Notes
2006  Artero Merlot
Plum and chocolate nose with a plate of black fruits and cracked pepper with a black currant finish.
 Artero Selection – 100 percent Tempranillo
Complex nose with a silky palate of lush black fruits, chocolate and pepper with hints of blueberry and strawberry jam. Long, lush finish.
 2008 Blas Muñoz Chardonnay
Toffee and buttery nose with hints of caramel. On the palate, it is rich and creamy with opulent notes of pineapples, custard, clove, honey, orange peel and a hint of cinnamon, as well as a rounded finish.