The D.O. La Mancha Roadshows for trade and media are back! After the great success of last year events in Chicago, San Francisco, Los Angeles and Dallas the wineries from D.O. La Mancha are on the road again.
In Spring 2012 we will be in Seattle, San Francisco and Houston with grand tastings, seminars and excellent wines to pour and share with USA wine professionals (trade and media).
During these Roadshows we will have a luxury companion, wine celebrity Michael Green. He will show D.O. La Mancha potential in our VIP seminars.
In the walk around tastings you will have the chance to try all the wines and discover the entire universe of grapes varieties and winemaking styles of the largest Appellation of Origin in the World.
Representatives from the D.O. Governing Body, including his President Mr. Gregorio Martin-Zarco, will lead a group of fteen wineries from D.O. La Mancha in the Road Show activities, showcasing more than 100 wines, some of them new arrivals to the American wine market.
The D.O. La Mancha Council will extend its promotional campaign in the USA to Fall 2012, where new events are being planned to bring the American wine connoisseur exciting new wines from our wineries.
Click on this link for registration and more information: https://lamanchawines.com/grand-tasting-2012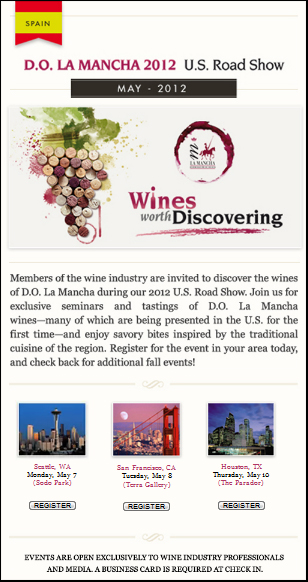 Facebook: La ManchaWines