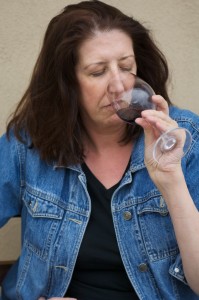 When I announced I was traveling to Spain, Billy the Kid looked up; this interesting development stole him away from his deep concentration from studying for his Wine & Spirits Education Trust (WSET) examination.
"Where?" he asked.
"La Mancha," I answered.
"Oh," he said, unable to conceal his disappointment. "According to my studies, La Mancha produces mostly bulk wines, and a lot of it is made into port. It's a region not known to produce high quality wines."
"Perhaps that was true historically, my friend, but there are rumors that change is afoot in the land of Don Quixote. Besides, inexpensive doesn't prelude delicious, does it? And why is bargain a bad word? Isn't everyone looking for the biggest bang for their buck? I'll check out the situation in the land of La Mancha and report back. Reading about wine is fine, but for my money, experiencing the region, the wine, the culture and the people is what it's all about."
I traveled. I saw. I experienced. I drank. A lot. I'm thinking you should be experiencing D.O. La Mancha, too. Either in person, or at your dinner table tonight.
With well over a million acres of grapes grown in La Mancha, La Mancha is the largest vineyard in the world, with over half of Spanish wine production coming from the region. Hands down, La Mancha is the king in the world of bulk wines for sure, but they have made amazing strides in the past twenty years in improving the quality of the wines by investing in modern technology and vinification to improve the excellence of the product. The wines that achieve greatness are granted the designation La Mancha Denominación de Origen (or in English D.O. La Mancha) which is not only a guarantee of origin, but a promise of the superior quality of the wines. And they are producing some tasty juice. Don't just take my word for it; experience the joys of D.O. Mancha for yourself.
Some vineyards to be on the lookout for:
The wines are surprisingly versatile. These are perfect food friendly wines, with the whites perfect for seafood or summer salads, and the reds ideal for backyard barbeques. When you're at your favorite wine merchant procuring a few bottles of D.O. La Mancha, you'll be pleasantly surprised at the cost. The quality-price-ratio (QPR) for these delicious wines might be the biggest selling point. Quality at a great price. From La Mancha, the world's vineyard.
Billy the Kid, close your books and book a flight to Spain. D.O. Mancha is beckoning. Answer the call. Experience D.O. Mancha.
Nannette Eaton writes the popular wine blog Wine Harlots.