This year, D.O. La Mancha wineries have been taking great strides to become the first thought for Spanish Wine in the United States.
Since May, the D.O. La Mancha has launched a very ambitious promotional campaign in different cities of China and the United States.
In May, wineries traveled throughout America to show the media and trade their wine. The delegation included D.O. officials and 11 wineries from the provinces of Albacete, Ciudad Real, Cuenca and Toledo.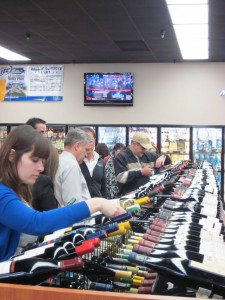 They held their second leg of the so-called Road Show in October, showcasing 13 wineries for trade and media, including Southern Wine & Spirits, Total Wine, Whole Foods, Glazer's and BevMo. Sommelier and filmmaker Charlie Arturaola also spoke about his connection to the wine region.
"La Mancha is very special to me," Aruraola says. "It's the home of Don Quixote."
In Los Angeles and Dallas, important industry decision makers enjoyed with the wine traditional La Mancha dishes, including the cochinillo (whole roasted suckling pig), lamb skewers and Manchego cheese.
So far, the events have been a major hit. Some media comments.
In D Magazine's Sidedish, Andrew Chalk wrote: "They are promoting how good the wines of Spain are becoming. … My take away from this tasting is that I must keep La Mancha on my purchasing radar. Quality is rising, prices are incredibly reasonable, and they are doing some wines that nobody else is doing."
Hayley Hamilton wrote on pinkmemo.com wrote his favorite wines tasted were
Los Galanes 2010 Arien, Vinos Coloman Besana Real Young Rose of Tempranillo and Casa Gualda with their Seleccion Cincuenta Aniversario.