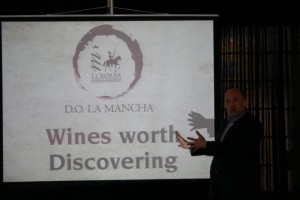 The Spanish wine region of La Mancha has named wine expert Michael Green as their U.S. Ambassador for 2012. Green, whose 25 years of experience include nearly two decades as Gourmet Magazine's wine and spirits consultant, will represent the designation of origin (D.O.) at events and speaking engagements as a spokesman, providing education and raising awareness of the wines of La Mancha to wine trade, consumers and media.
"Michael was chosen as La Mancha's U.S. Ambassador because he is truly passionate  about sharing the story of the region," stated Gregorio Martín-Zarco, President of the D.O. La Mancha Regulatory Board. "His ability to inspire and engage people will go far in helping us spread the word about the wines of La Mancha."
Adds Marisa Flores of the Foreign Trade Institute of Castilla-La Mancha (IPEX), a supporting partner of the D.O.'s activities abroad, "Michael brings great enthusiasm for every aspect of the wines from the grape varieties and the regional climate to the winemakers themselves, and we are so pleased he has come on board."
Green, who is geographically exclusive in his representation of the D.O., notes that he is honored to work with La Mancha, remarking that "the diversity and quality of wines coming from the region today is remarkable, and I think they will surprise a lot of people. It is time for the U.S. to know more about La Mancha and I am delighted to be a part of this campaign."
Green's first role as U.S. Ambassador of D.O. La Mancha was during the "Wines Worth Discovering" U.S. Road Show in early May where he presented a seminar and tasting in four cities. His presentation touched on many aspects of La Mancha including information on the region's dramatic climate, its grape varieties including the indigenous Airén and Tempranillo, as well as intriguing details on the region's winemaking and wine styles. The events, which were held the week of May 7, took place in Seattle, San Francisco, Houston, and Dallas.
Green will be speaking around the country in the upcoming months promoting the region and its wines which have been steadily gaining a foothold in the U.S. market. In addition, the D.O. La Mancha will continue the "Wines Worth Discovering" Road Show in the fall featuring more seminars with Green (cities and dates to be announced).
Facebook: La ManchaWines