by Fred Minnick
I have a confession to make: I love Manchego cheese. I love its nutty, sweet and tangy flavors, its firm texture, and how it perfectly pairs with the popular Spanish grapes Tempranillo and Verdejo. I eat Manchego as a snack, for breakfast and use it in every recipe from ravioli to grilled cheese. My favorite Manchego recipe comes from La Casota: Loin of suckling lamb stuffed with cured Marantona Manchego cheese and wild mushrooms, with a cencibel wine sauce and crispy Marantona semi-cured cheese. Could that be a Christmas dish for this year?
I digress.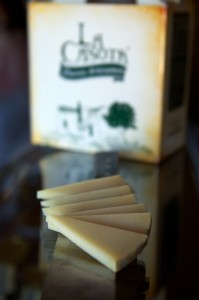 Manchego is made from unpasteurized or pasteurized milk from Manchego ewes raised by registered Denomination of Origin La Mancha farms. La Mancha has been making this cheese for more than 2,000 years. Many say Manchego cheese is the product of a harsh, extreme climate that favors the growth of very tough plants, the diet for an ancestral race of sheep. But, I like to give the cheesemakers as much credit as the sheep.
So, imagine my absolute joy when I had the opportunity to tour one of the best Manchego cheesemakers, Quesos La Casota. As soon as I walked into the aging room, I could smell the Manchego in the air. The pressed-curd cheese made with purebred Manchego sheep milk was aging for a year. Oh, it was heavenly. I could smell the creamy and nutty flavors developing before my very nose.
As I stood there, enjoying the transformation of cheese ripening, I wanted to break out a fine bottle of D.O. La Mancha Tempranillo right there and slice off a sliver of Manchego. When I had the chance to finally taste the cheese, it was bliss.
La Casota manufactures only cheese. However, many DO La Mancha wineries produce DO La Queso Manchego as well. One of my favorite wine geeky things to do is pair a producer's cheese with his wine. If you can find these cheeses and wines in your stores, I highly recommend these pairings.
Casa Gualda Queso Manchego Artesano with Casa Gualda Crianza – 50% Tempranillo, 50% Cabernet Sauvignon. The cheese's tangy flavors and creamy body combine nicely with the well-balanced red that is filled with notes of dark cherry and red fruits.
Pago Bolote's Queso Manchego Artesano comes from unpasteurized milk and demands a full-bodied wine, like its Bolote Desgual 2004, a DO La Mancha blend of Tempranillo, Syrah, Merlot and Cabernet Sauvignon. The two are the perfect pairing, with the wine notes of black currant and chocolate balancing the rich, intense cheese flavors.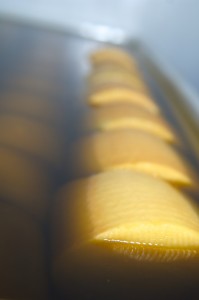 Finca La Jaraba raises its own sheep, and you can tell there's a lot of effort in its rich and creamy Manchego cheeses. I have found Finca La Jaraba pairs exceptionally well with the La Jaraba Merlots, with the flavors of black fruit, sweet spices and toasted fruit skins just exploding in the mouth while the cheese notes slightly linger.
With that said, Manchego cheese is a versatile cheese that can be paired with a lot of whites and several reds. The one misnomer out there is that it can only be made anywhere. Legally, it cannot be made outside of La Mancha. And tastefully, the attempts to make Manchego outside of its origin have been futile.
Manchego cheese cannot be duplicated and is best with a glass of La Mancha wine.
In addition to being a Cheeseaholic, Fred Minnick is an international writer/photographer who covers wine for several magazines. View his work at FredWrite.com.