DO La Mancha  has a wide variety of native and non-Spanish grapes. Today, we would like to talk about Monastrell and Viogner.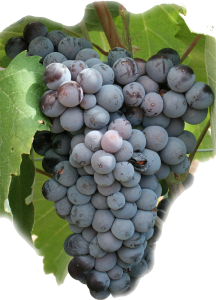 Monastrell
Sweet red wine with a productive upright posture, a characteristic of the Spanish "Levante".
Their grapes require high temperatures and are sensitive to mildew and sour rot. They are small, blue-black in color and thick-skinned.
Often results in wines of intense ruby color with violet tones and grading remarkable young wines which change over time to sepia and beige colors because it has a high oxidative power.
It is also suitable for the making of sweet wines.
Viogner
Theoretically a white native of the northern Côtes du Rhône, although it is said that it was introduced inFranceby the Romans Its cluster is compact and of small grains, resulting in complex cultivation for its excessive sensitivity to disease.
However, it provides excellent wines with great structure on the palate and plenty of fruit.  Its characteristic is their aromas of mango and apricot, accompanied by a magnolia floral honeysuckle.
Having been recently introduced in our country, their adaptation to hot spots points to a progressive increase in cultivation, as it is happening inLa Mancha.
Facebook: La ManchaWines