By Fred Minnick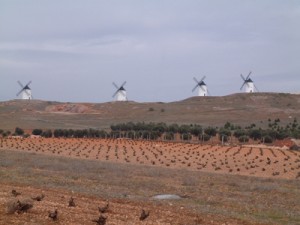 There it sits. In all it's winding glory: a twirling, towering windmill firmly planted atop a hill in the middle of D.O. La Mancha. Its beauty blossoms even more with a blue-sky backdrop. The La Mancha windmills were made immortal by the words of Miguel de Cervantes in his 1605 Don Quixote. They became iconic symbols found throughout D.O. La Mancha, the largest wine-producing region in Spain.
The windmills harken back to the way the world used to be in Spain in much the same way D.O. La Mancha wine producers continue to grow indigenous grapes. They are shifting away from selling bulk wine and wine for Spanish brandy and moving toward creating high-quality wines that can be found throughout the United States.
In a time when vineyards across the world are rushing to plant popular grapes, La Mancha winemakers are mostly sticking to the grapes from Don Quixote's Days.
D.O. La Mancha Approved Whites:
Airén
Viura o Macabeo
Chardonnay
Sauvignon Blanc
Verdejo
Moscatel de Grano Menudo.
D.O. La Mancha Approved Reds:
Cencibel (Tempranillo)
Garnacha
Moravia
Cabernet Sauvignon
Merlot
Syrah
Petit Verdot
They are also experimenting with Riesling and Gewürztraminer in the whites and Cabernet Franc, Graciano, Bobal and Monastrell in the reds.
D.O. La Mancha Taste, New & Old
In the classic style, some D.O. La Mancha winemakers are presenting the sweet tannin structure with fruit front forward. In the newer styles, the wines are lush medium bodied in the whites and spicy and cherry like in the reds, which usually have the Tempranillo as the main grape.
Palacio de Galiana from the Navarro Lopez Family Group holds true to this time-honored style, producing D.O. La Mancha wines in the small village of Cinco Casas with its forward-fruit, well-structured wines. Palacio de Galiana's 2010 Luna Negra Tempranillo is rich with black fruit flavors of cherry, blackberry and cola and savory tannins. Palacio de Galiana also produces whites Airén and Macabeo grapes that make deliciously fruity pale yellow white wines with hints of green and tropical aromas.
At Vinicola de Tomelloso, 28 wine families banded together to create an elaborate winery that would grow Airén, Macabeo and Sauvignon Blanc, as well as Cencibel (Tempranillo), Cabernet Sauvignon and Merlot. The result has been a highly respected winery with bronze, silver and gold medals from various competitions. Vinicola de Tomelloso's Finca Cerrada Crianza, made from Tempranillo, Cabernet Sauvignon and Syrah, is a beautiful cherry red wine with garnet hues and hits the nose with black fruits. Its expression of ripe Tempranillo is lovely and luscious. It is soft, velvety and just a wonderful wine to have around the house.
Palacio de Galiana and Vincola de Tomelloso are just two of many D.O. La Mancha vineyards trying to have a stronger U.S. presence. They were among 11 vineyards on the 2011 USA Road Show, where they set up trade tastings with wine trade and media.
These wines are great examples of what can be found in D.O. La Mancha wine: Good wine at good prices. As one U.S. importer put it, D.O. La Mancha represents some of the best value in the world.
"You can get high quality wines from D.O. La Mancha for very little," says Becket Moreno, U.S. importer for Route 244 LLC. "They make excellent wine."
Fred Minnick is an international writer/photographer who covers food, wine and spirits. View his work at FredWrite.com.