By Fred Minnick
More so than any wine region in the world, DO La Mancha is deeply connected to the literature and film about the area. On every D.O. La Mancha bottle is an artistic depiction of the Don Quixote riding his horse with lance in hand.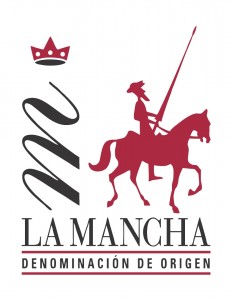 The two-volume book Don Quixote written by Miguel de Cervantes in 1605 and 1615 is considered the most influential work of literature from the Spanish Golden Area. The book is also on many shortlists as one of the greatest written works of all time. Translated more than 20 times since it was first published, Don Quixote is about the adventures of the troubled knight Don Quixote and his squire Sancho Panza.
Obsessed with the chivalrous ideals touted in books he has read, Quixote takes up his lance and sword to defend the helpless and destroy the wicked. In return for Sancho's services, Don Quixote promises to make Sancho the wealthy governor of an isle. They ride the roads of Spain in search of glory and grand adventure and for the heart of a peasant woman, Dulcinea del Toboso, whom he envisions as a princess. Quixote was a man of chivalry, which was basically his reason for living. With his death, so died chivalry.
The story captured so many that it has become a reason why people travel to Spain, to see the storied windmills and the towns mentioned in the book. In addition to the DO La Mancha's Don Quixote label, several wineries, like Campos de Dulcinea, have named their wineries or wines after Don Quixote book characters.
The book is also well represented in film, opera and cartoons. In case you're wanting to figure what this Don Quixote character is all about and why it's on every DO La Mancha wine bottle, check these titles out.
Don Quixote by Miguel De Cervantes, translated by Edith Grossman.  This is widely considered the best translation of the great novel.
Man of La Mancha (1973) starring Peter O'Toole and Sophia Loren. Film critic Robert Horton: "It's hard to imagine a finer Don Quixote than Peter O'Toole, who's spent most of his career with a slightly mad, dreaming look in his marvelous eyes. O'Toole's suitability for the role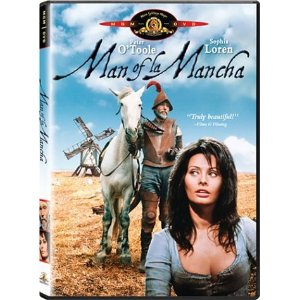 is tested by the Broadway treatment of Man of La Mancha, the film version of the hit stage musical. Everybody knows "The Impossible Dream," that indomitable hymn to, well, quixotic questing, and it is indeed the best of the Spanish-inflected songs. Despite the location shooting in Italy, Love Story director Arthur Hiller can't elude the stagey concept (in which Cervantes, imprisoned by the Inquisition, acts out the tale of Don Quixote for his fellow prisoners). James Coco, as Sancho Panza, is overshadowed by the film's irresistible Dulcinea: Sophia Loren, at her mature peak. (Her singing, alas, is not as ripe as her beautiful self.) If you love Cervantes for his earthy ironies, this movie will seem a curious slice of inspirational shtick."
Man of La Mancha: A Decca Broadway (1965) with Mitch Leigh, Joe Darion, Richard Kiley and Joan Diener. In this beautiful musical, they sing the story of Don Quixote. The lyrics by Darion were considered revolutionary for its time with the balance of dignity and vulgarity, while maintaining a comical balance. It is considered one of Broadway's most-inspiring musicals.
Orson Welles' Don Quixote. Although released in 1992, the footage was from his unpublished work and was published long after the legendary director's death. Although it has received multiple negative reviews, the film uniquely combines Don Quixote's time with the modern era. At one point, Sancho Panza watches television. It's a fun film for any Quixote or Welles fan.
Don Quixote in ballet with Mikhail Baryshnikov and Cynthia Harvey, directed by Brian Large (1983).  This was one of the most popular and joyful ballets surviving from the imperial Russian ballet's repertory.
Don Quixote animated (1999) with voices from Robert Helpmann and Chris Haywood. Although the animated Quixote is far from Cervantes' character, it's quite entertaining to see the cartoon. And, it's perfect for children.