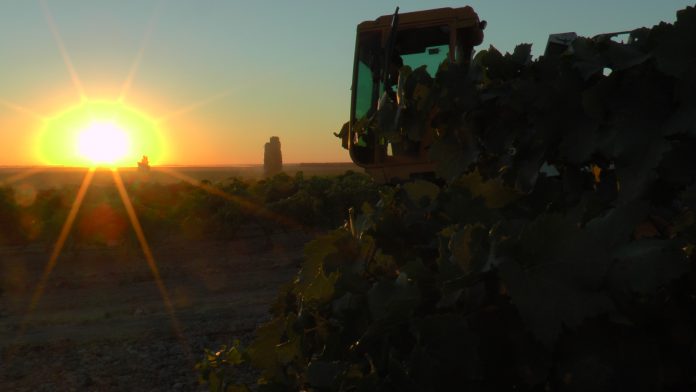 Mechanised night-time harvesting has taken over DO La Mancha vineyards for the chardonnay variety, one of the first to be picked
The grape was first grown in the Burgundy region of France, although nowadays you could say it's one of the most frequently grown varieties in vineyards all over the world.
The bunches are vigorous and the grapes have thin skins, so picking has to be done carefully. On the other hand, Chardonnay is a highly aromatic grape and probably the best suited to spending time in the cask.
It's also very versatile and has adapted extremely well to La Mancha conditions, either blended with other white varieties or in single variety wines. La Mancha's Chardonnay wines are a surprise on the palate for their powerful, markedly tropical initial nose, which, together with good acidity and freshness, makes these young wines very pleasant in the mouth.
The white Chardonnay harvest came early this year, including at the Vinícola de Tomelloso winery. It was in this very town, in Tomelloso, that the Bodega Almazara Virgen de las Viñas went out under cover of darkness to set about bringing the grapes safely in. As Ángel Álvarez, field technical expert explains, "we were keen to preserve the primary aromas in these early varieties and also to save the energy costs involved in controlling the temperature at which fermentation takes place".
Early but good quality
The somewhat hasty harvest has done nothing to harm the excellent state of the fruit, insists Álvarez. "It's been a typical year of low rainfall and absence of disease, but the grapes are looking very good. Although they've accumulated sugar earlier than expected, they've maintained their acidity levels".
Their arrival at the winery has been shared with other varieties from outside that have done extremely well in La Mancha's vineyards, like Sauvignon Blanc and small grain Moscatel.
At present, Chardonnay is the fifth most widely grown variety in La Mancha.