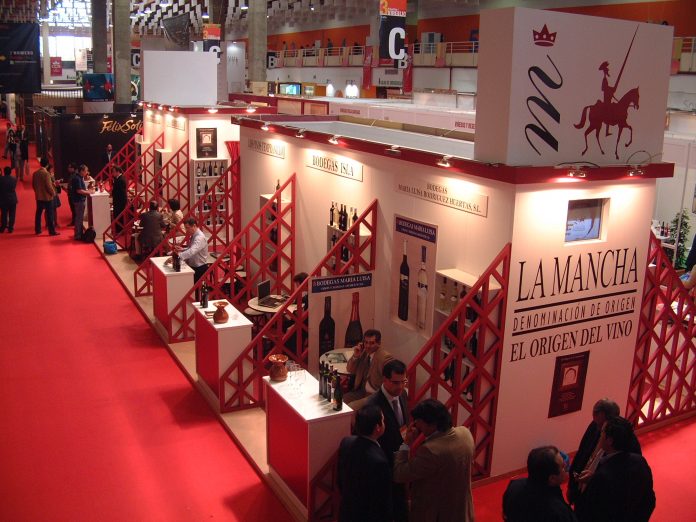 As happened in the five previous editions, the Denomination of Origin "La Mancha" has had a strong presence in the sixth edition of the National Wine Fair (FENAVIN), which has been held in Ciudad Real (Spain) from 10 May to 12 May.
The Governing Body had a very modern and functional pavilion located in the Central Hall, known as Virgilio, which had dimensions of around 100 m2, and providing a space to serve importers and distributors who came, as well as other professionals interested in the wines from La Mancha.
In order to serve the public individually, the wineries grouped in the pavilion have had their own exhibition space attended by marketing managers of each business. Furthermore, many other wineries of the Denomination of Origin (about 100), attended the fair with their own booth, so the D.O. "La Mancha" has had the greater presence in the National Wine Fair, although the organization has opted to diversify the exhibitors, which has enriched the trade show.
It is also worth remembering that the organization of the National Wine Fair was an ambitious project launched by the Council of Ciudad Real, always with the support of the DO La Mancha, which considered the largest wine region in Europe should have an international fair, as is the case with such prestigious areas such as Bordeaux.
In addition, expectations before the fair were very positive; the predictions for FENAVIN 2011 indicated that about 6,900 guests would attend from 54 different countries, this is the reason why the fair is considered an ideal complement to the International Marketing Campaign started some time ago.
In fact, for the Council of Ciudad Real is also important to know that they make easier the trades of the wineries of La Mancha, this is why the organization of FENAVIN came last March 23 at the headquarters of the Governing Body to explain to the wineries how to take advantage of the available tools and how they can improve their performances in the fair.
The wineries which could be found in the stand:
Bodegas Isla – Villarta de San Juan (Ciudad Real)

Coop. La Candelaria – Casas de los Pinos (Cuenca)

Bodegas Entremontes – Quintanar de la Orden (Toledo)

Bodega Campos de Dulcinea – El Toboso (Toledo)

Bodegas La Remediadora – La Roda (Albacete)

Amadís de Yébenes – Miguel Esteban (Toledo)

Bodegas Casa Antonete – Tarazona de La Mancha (Albacete)

Bodegas Taray – Las Mesas (Cuenca)

Bodegas Altovela – Corral de Almaguer (Toledo)

Bodegas Gardel – Las Mesas (Cuenca)