By Fred Minnick
Depending on where you live in the United States, you can purchase D.O. La Mancha wine online and have it sent directly to your house.
To find out if your state is eligible to receive wine shipments, visit UPS: Shipping Wine or the WineInstitute.org, which details the laws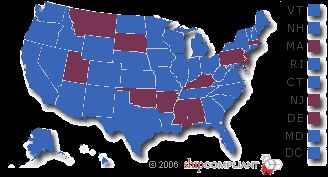 governing wine shipments.
Here's a look at several outstanding online wine retailer options for DO La Mancha wine.
La Tienda, a family-owned and operated online retailer that is passionate about Spanish wine: "La Mancha is Spain's largest producer of wine, and like the other regions, new technology and approaches to winemaking are transforming this area. The local strain of Tempranillo grape is the most common, and is creating some very good wines. NOTE: Orders containing wine require an adult signature upon delivery." Quixotewines.com pick for best buy at La Tienda: El Vinculo 2003 by Bodegas Fernandez at $36. This beautiful wine is made from 100% Tempranillo and is dark ruby-colored with aromas of cigar, cedar, redcurrants and blueberry. It's silky and velvety while displaying ripe fruit. It's a great wine for special occasions or any day of the week.
Wine.com is the No. 1 online wine retailer. As expected, the site has several top-notch D.O. La Mancha wines, including a Bodegas Volver 2009 for $16.29. We've written about this wine many times, so it's no surprise that it's one of the sites top sellers for under $20. Check out these past stories about Bodegas Volver.
Zachys is a legendary New York wine retailer that offers a large selection of its inventory online. Zachys carries a large selection of La Mancha wines, including our pick for best buy, Bodegas Jimenez Landi Sotorrondero 2009 for $23.99. This is another example of Bodegas Jimenez lively wines with notes of lilac, blueberry and raspberry. It's simply delicious.
KLwines.com frequently recommends DO La Mancha wines. This month the website is recommending the 2006 Ovidio Tempranillofor $18.99. According to KLwines.com, "at this price point one doesn't always find such a balance between fruit, acid, structure and tannin, but here it is! Try with pizza, pasta, red meat or chicken." It's our pick for the site's best buy!
WineChateau.com has one of the largest online selections of La Mancha wine. The site frequently runs discounts when purchasing a case. WineChateau.com is offering Bodgegas Lopez Mercier Tempranillo for $32.34 for six bottles, a 31 percent discount.
Other websites that carry DO La Mancha wines include WTSO.com, Invino.com and Vitis.com.