PROFESSIONAL IMPORTERS AND JOURNALISTS FROM TAIWAN, HONG KONG, SINGAPORE AND SOUTH KOREA PARTICIPATED IN TASTINGS, VISITED A NUMBER OF WINERIES AND LEARNED ABOUT LA MANCHA'S GASTRONOMY.
"I'd heard about La Mancha through Cervantes but now I've come here and seen its culture, landscape and nature for myself, I've loved the experience." With these words, Rina Baek from South Korea summed up her assessment of the reverse mission carried out with Asian importers on La Mancha soil from 9 to 15 April.
The activity was overseen by the Regulatory Board's international department in collaboration with the European Sustainable Wines campaign, an EU-funded programme. The Regulatory Board participates in the European Sustainable Wines promotional campaign in conjunction with other wine consortia such as Abruzzo and Barbera d'Asti. The campaign promotes high quality European wines and highlights their connection with winemaking sustainability in Europe.
Tastings, winery visits and gastronomy
This was an intense week with a packed schedule for Asian importers, who were able to visit different kinds of production wineries hosted by the La Mancha Designation of Origin, take part in winery tasting showrooms and also try some of the most representative dishes of La Mancha's cuisine. Plus, of course, they visited iconic La Mancha tourism attractions like the area's windmills, the Tomelloso caves and Consuegra castle.
Showroom at the Regulatory Board
After arriving in Madrid, the reverse mission delegates got their first impressions of the region by visiting Toledo and taking an instructive walk through the old town. This was followed by dinner at the iconic Hotel Cigarral – El Bosque. The hotel restaurant is listed in the Michelin Guide and is in an idyllic setting, with ten hectares of native vegetation and only a stone's throw away from the Primatial Cathedral.
Just 24 hours later, delegates visited the Regulatory Board's own headquarters to take part in a tasting session featuring several of the participating wineries (La Tercia, Dcoop-Baco, Bodegas del Saz, Isidro Milagro, Yuntero, Vinícola de Castilla, Santa Catalina, Isla, Finca Antigua, Bogarve 1915, Lairen, Alcardet and Verdúguez). The day ended with a heritage excursion to the mythical windmills of Cerro de San Antón, as part of the combined gastro-cultural schedule, followed by dinner at the Bodega La Tercia facilities.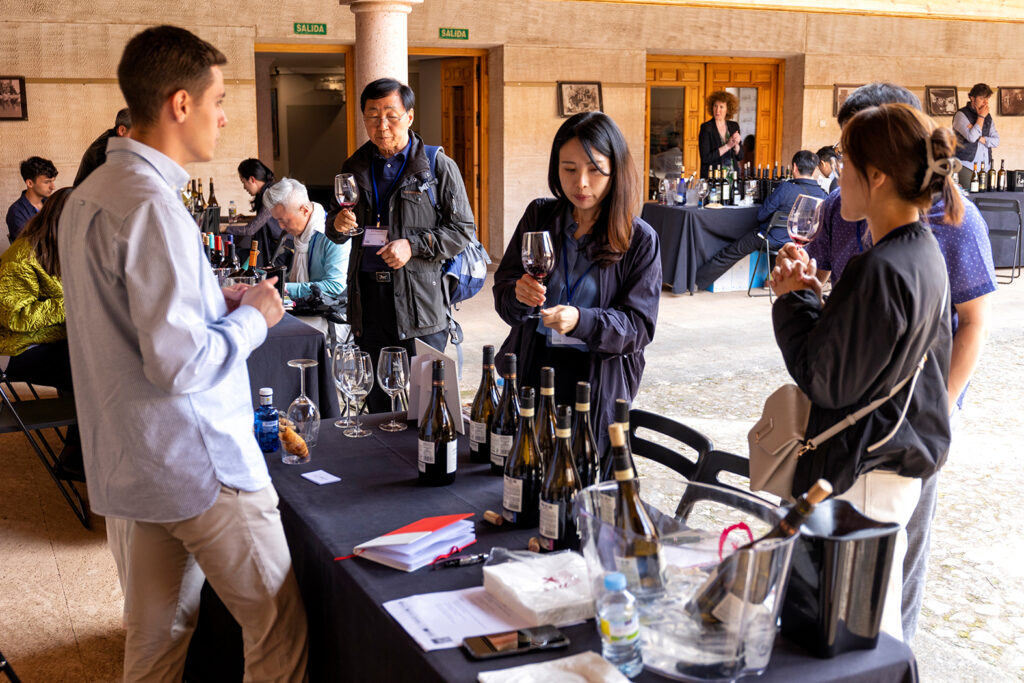 The second day of the week focused on Villarrobledo, with a visit to the wineries of Bodega Ayuso and Bodega César Velasco, both of which have a long family tradition, before finally exploring the vineyards and facilities at Bodega Finca Antigua la Familia Martínez-Bujanda, in the municipal area of Los Hinojosos (Cuenca).
On 12 April, it was time for a second wineries showroom tasting at the Torre del Vino Museum in Socuéllamos (CR) with the participation of another group of wineries (the aforementioned Ayuso and César Velasco wineries plus Lozano, Romero de Ávila, Vega Demara, Cristo de la Vega, Centro Españolas, El Progreso, Campos Reales, Puente de Rus, Vinícola de Tomelloso and Bodega Almazara Virgen de las Viñas).
Tomelloso occupied delegates' attention on the fourth day with a visit to Bodegas Allozo Centro Españolas, followed later by a trip to the winery and oil press of Virgen de las Viñas. The fourth day culminated in a visit to the Ancient Cave, the only one of its kind carved out of the rock many years ago as a storage tank and an original location that allows complete immersion in Tomelloso's folklore.
To close the week, the reverse mission moved to the Toledo area of La Mancha in Consuegra, but not before visiting the historic Bogarve 1915 winery owned by the García de la Cruz family in neighbouring Madridejos. The delegates then toured the region's historic trio of the castle, the archaeological museum and the "Bolero" windmill, three must-see attractions in the Consuegra region.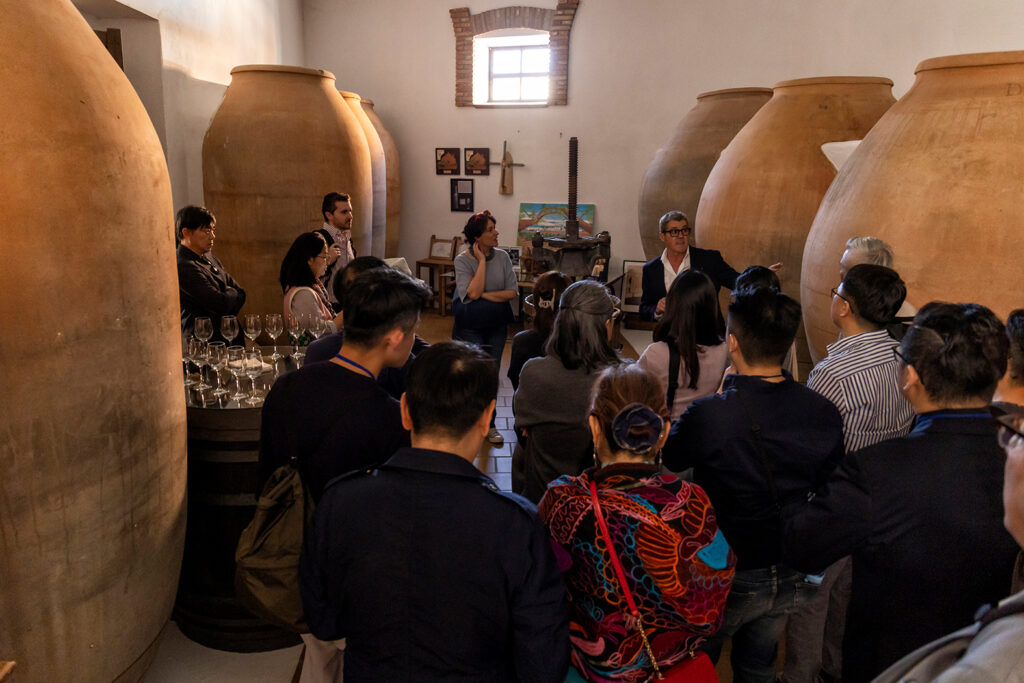 Positive impressions
The Asian delegates returned to their respective countries delighted with the trip, which was deemed to have been very worthwhile. They saw for themselves that La Mancha not only has an amazing literary culture thanks to Miguel de Cervantes and his novel "Don Quixote", but that it also keeps alive an exceptional tradition of fine wines thanks to the environmental factors that make DO La Mancha wine so unique.
All participating wineries