The Regulatory Board has successfully rounded off its participation in the inverse mission held in the third week of September.
Around twelve professionals from countries as diverse as Japan, Mexico and Colombia saw for themselves the current state of La Mancha's wine sector at a significant time of the year, when the grapes are being harvested.
The importers were left with very favourable impressions, even having the chance to visit a vineyard and have the experience of picking some of the most important red varieties in the La Mancha Designation of Origin area. In the words of Asuka Igarashi, a professional from Japanese company New World Trading, "being able to handle the grapes was amazing because up to now we've only seen them in photos but we hadn't ever been this close to them before".
This feedback coincides with that of Pilar Klerian, an importer from Mexico who was loving "the unique moment of being able to harvest a vineyard in La Mancha".
Tours, tastings and tourism
The hectic schedule took the visitors to some of the most characteristic La Mancha towns, including Villarrobledo, Tomelloso, Socúellamos and La Solana, plus a visit to the Regulatory Board headquarters.
They not only took part in showroom tastings, they were also able to learn more about day-to-day operations in a winery fully immersed in the harvesting campaign, with tours of the facilities and tastings of some of the wines.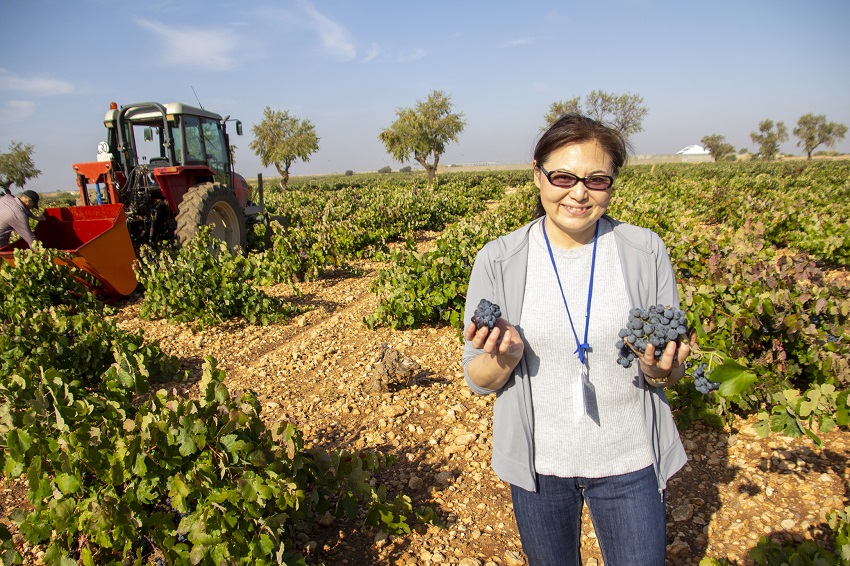 Culture and gastronomy as attractions
One of the purposes of the inverse mission, now in its second year and held during the harvesting season, was also to present the social and cultural importance of wine in La Mancha society. With this in mind, guests were invited to try some of the most traditional dishes from La Mancha's gastronomy and visit iconic locations from Don Quixote de la Mancha, such as the windmills at Campo de Criptana.
Promotional action in a potential market
This promotional action plays an important hand of establishing markets with potential for consumer growth in years to come. Japan, together with Colombia and especially Mexico (with substantial growth) accounted for some 2,689,902 bottles (0.75 cl) over the course of 2018.
In the opinion of Regulatory Board President Carlos David Bonilla, "we hope that this promotion will serve to open up more business lines for La Mancha wineries in these countries".
A total of thirty wineries took part in the promotional action:
Baco – Dcoop Group
Bodegas Alcardet
Bodegas Altovela
Bodegas Entremontes
Bodegas Naranjo
Bodegas Navarro López
Bodegas Verdúguez
Bodegas Vidal del Saz
Bogarve 1915
Félix Solís
J García Carrión
Bodegas Ayuso
Bodegas Cristo de la Vega
Bodegas Fernando Castro
Bodegas Illana
Bodegas La Remediadora
Bodegas Puente de Rus
Bodegas San Isidro (Pedro Muñoz)
Castillo de Aresan
Hammeken Cellars
Vinos Coloman
Bodegas Centro Españolas
Bodegas Isidro Milagro
Bodegas Isla
Bodegas Romero de Ávila
Bodegas Yuntero
Santa Catalina
Vinícola de Castilla
Vinícola de Tomelloso
Vinos de David Auñon
Virgen de las Viñas
Bodegas El Progreso