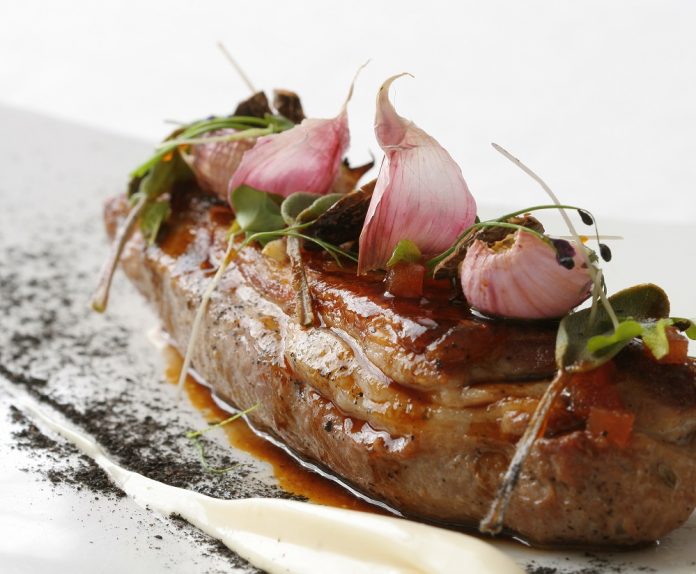 This suckling lamb confit on a bed of garlic has all the ingredients you might find in the La Mancha larder, and is based on one of La Mancha's most authentic products, especially in the province of Cuenca.
Purple garlic from Las Pedroñeras can trace its farming origins back to the East. Even in Antiquity, eating purple garlic was recommended for its many properties, virtues and therapeutic purposes.
Ingredients
1 kilo of La Mancha lamb ribs
4 cloves of Las Pedroñeras garlic
1 sprig of rosemary
1 litre of extra virgin olive oil
Preparation
Divide the lamb ribs to serve four people, play on an oven tray and heat the oven to about 80ºC.
Once the oven has reached the required temperature, drizzle a film of olive oil over the lamb ribs, add the garlic and the rosemary so all the meat is infused and place the tray in the oven.
When the confit process is complete, drain away the oil before serving to avoid an excessively greasy texture.
Serve in the preferred way with the garlic.
Preparation time: 4-5 hours
Difficulty: Medium

Pairing
To make this dish even more enjoyable, serve it accompanied by a DO La Mancha wine. Its calorific value means that lamb is usually well balanced with a glass of red.
The classic way is to opt for a red Tempranillo, the queen of Spanish grape varieties. The powerful flavour and fat content of La Mancha lamb calls for a cask-aged wine.  If you'd rather go for a fruitier wine, an oak red is best, although the norm is to serve it with a Crianza, Reserva or even a Gran Reserva.
If you prefer to follow one of the foreign trends, the tannic structure of a slightly cask-aged DO La Mancha Syrah will also keep you and your fellow diners happy.
Ideal served with:
A glass of Burgundy
Temperature: 14ºC (left to reach the ideal temperature for a few minutes)
For Crianza wines: serve preferably in a decanter (or uncorked 20-25 minutes beforehand)