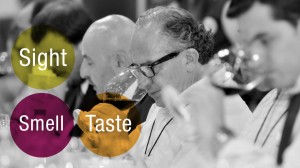 Sight
The first thing to consider is that you should not overfill the cup, which will facilitate the tasting. Observe the wine with good light and holding the cup at the base, away from yourself to verify that the wine does not have any foreign objects, the intensity of color, whether it has bubbles or not bubbles, above all, its clarity.
Smell
You have to bring the nose close to the glass and smell. Then you must move the glass causing a rotational movement in the wine, thereby releasing the aromas, to return to inhale deeply the smell of the wine, this time more carefully.
Taste
You have to take a sip to allow you to taste the wine throughout your mouth, but not so much that you have to do the reflex of the swallow them. When we taste the wine, we should make it move smoothly through our mouth, so that all the taste buds can have a taste of the wine. If you are confident, you can open your mouth slightly, allowing air to enter, thus sending the aromas from the back of the mouth to the olfactory bulb, which is very useful because it allows the nose and the mouth to work as a team. We should not swallow until it has obtained a sense of taste and a full sensation of the wine, paying attention to the final flavor, which should be pleasing and long-lasting.
Tasting Airen and Tempranillo wines:
White Young Airen Wine
Visual step: Pale, with green, glossy tones
Nose: Clean and open, with a marked varietal Airen character, light resemblance to apple varietals.
Mouth: Balanced and light on the palate. So are the new-style white Mancha.
White Traditional Airén Wine
Visual step: Straw yellow with golden hues.
Nose: Ripe fruit aromas and of medium intensity.
Mouth: Tasty, powerful and fruity.
Rosé Young Tempranillo Wine
Visual step: Intense rose and black-currant, very bright and attractive.
Nose: Primary aromas of the Tempranillo varietal or Cencibel, reminiscent of raspberries.
Mouth: It is very fresh and light, soft wine with a bitter aftertaste.
Rosé Traditional Tempranillo Wine
Visual step: Intense pink color.
Nose: Clean aromas, powerful and fructose.
Mouth: Fresh, with notes of strawberries and cherries.
Red Young Tempranillo Wine
Visual step: Beautiful cherry purple color, very bright and with a middle layer.
Nose: Aromas of red fruits and persistent strength of the variety Cencibel or Tempranillo, tinged by those arising in fermentation.
A sweet touch that reminds you of fig bread.
Mouth: Gentle in terms of the attack, it is light and acidity stresses its character as a young red. Very lively and interesting.
Red Traditional Tempranillo Wine
Visual step: Cerise upper middle layer.
Nose: Aromas of red fruits.
Mouth: Round and balanced on the palate with a long and persistent mouthfeel.
Red Crianza Tempranillo Wine
Visual step: Cherry red, deep and good intensity.
Nose: Fruity red berry and licorice, assembled with the finest spices of a good ageing.
Mouth: Soft, medium bodied, but very tasty and alive. Is still maturing in the bottle
Red Reserva Tempranillo Wine
Visual step: Garnet, clean and in good layering.
Nose: It is complex, with a strong bouquet, which originated in their upbringing. It smells like spices and leather.
Mouth: The first sensation in the mouth is a dry wine with good tannins. It leaves a pleasant aftertaste of ripe fruit.
Red Gran Reserva Tempranillo Wine
Visual step: Ruby with meniscus. It is still undeveloped and visually very attractive.
Nose: There are still plenty of fruit, like the good Gran reservas, which blends well with the flavors specially developed in a proper aging barrel.
Mouth: Medium bodied, but with lots of character, it is well balanced, tasty and round. It has clean retronasal aromas from its aging process.
Facebook: La ManchaWines