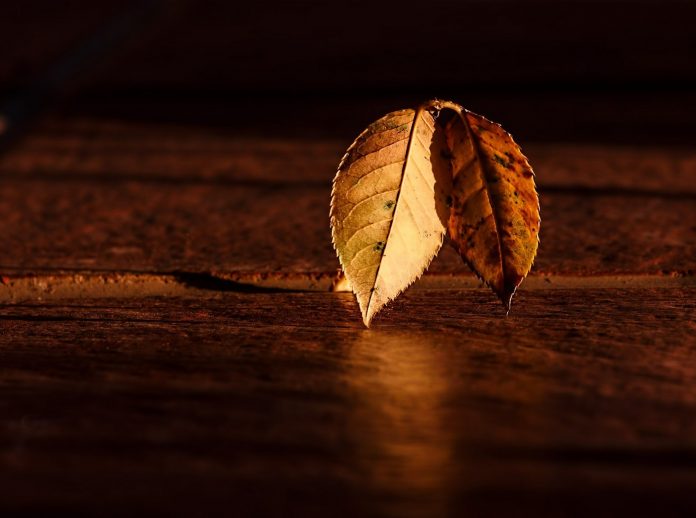 After a summer when the light recipes, whites and fruity wines took over our tables, the autumn asks us for wines with structure, which pair with stronger and more caloric dishes to fight against the colder temperatures.
Spoon dishes have been recovering prominence in our diet for years. Highly healthy, most of them have a star element: the legume, rich in proteins, carbohydrates and fiber.
Do you dare to taste one of these autumn pairings?
La Mancha wines with autumn mushrooms
Nothing better than a plate of mushrooms to start autumn. It depends on how we cook them, but in general we can enhance flavors and nuances through a pairing with a Chardonnay or a Sauvignon Blanc with Young label.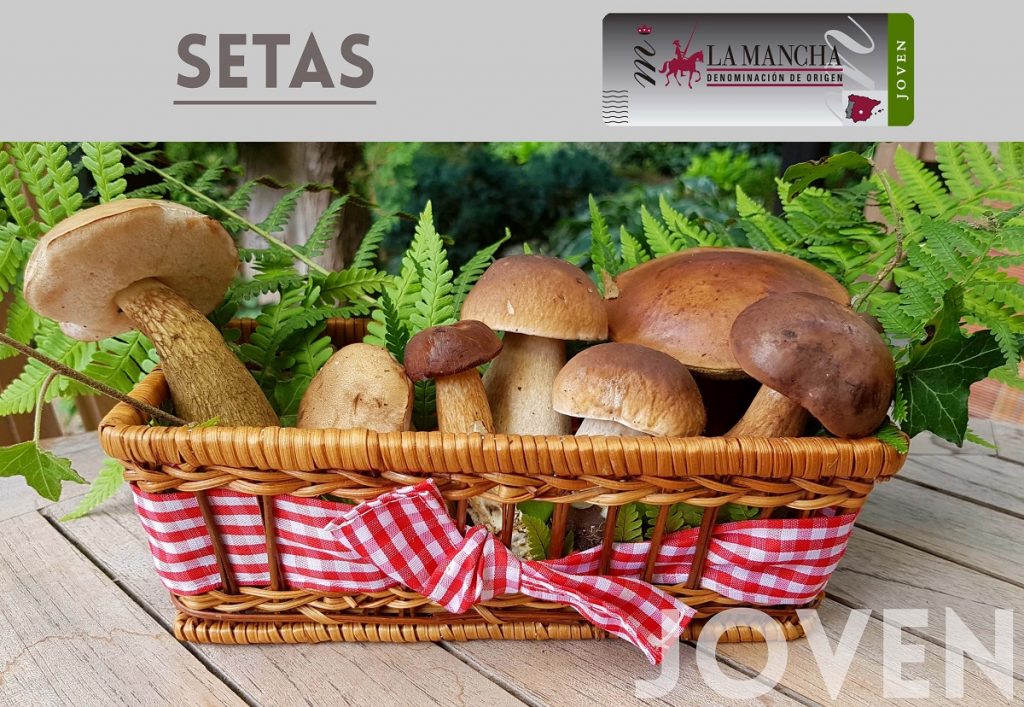 Young wines are obtained in the same season in which their bottles are labeled and should be consumed in a period not exceeding nine months from their elaboration to enjoy their aromatic potential.
White and rose wines are recommended to be served between 6-8ºC, while reds between 10-12ºC.
Both varieties are very well adapted to La Mancha terroir, providing a version with more touches of tropical aromas.

La Mancha wines and pumpkins
Pumpkin is another recurring ingredient in this season. Whether in a cream with ginger and parmesan or in a risotto, it can be accompanied with fresh and light white wines or with sparkling and rosé.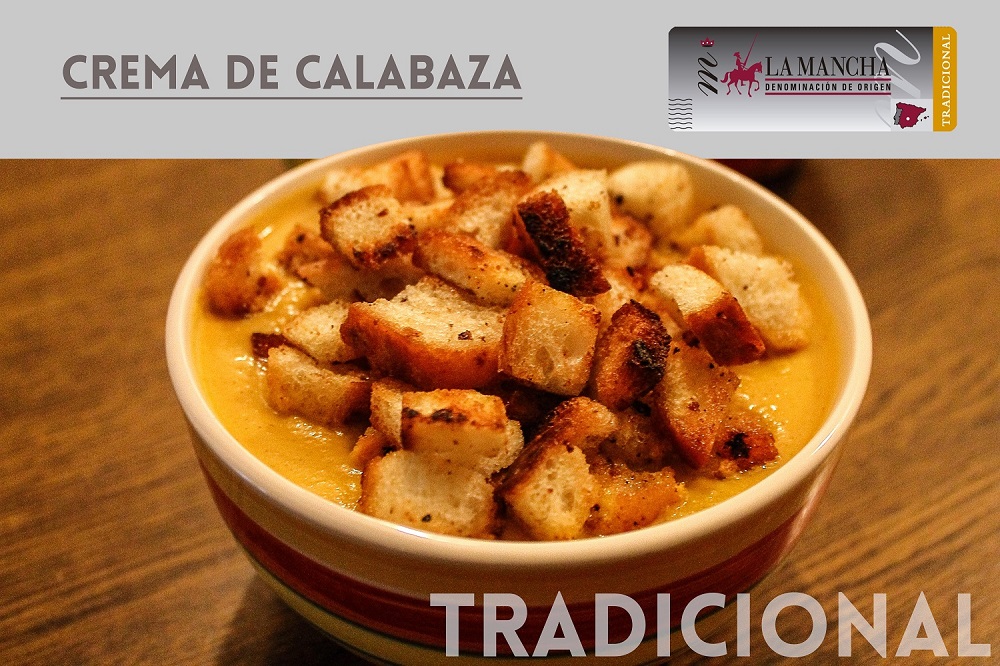 The wines that show La Mancha Traditional label are made based on the traditional system reinforced with the latest technological advances. They keep a point of distance and balance between young and aged wines and their natural life is comparable to any other aged wine.
Lentils in autumn
The recipes change according to the area. La Mancha cuisine is intimately linked to the history of its people, lands and customs. At the beginning of the masterpiece Don Quixote, it is told how a hidalgo from La Mancha ate "widow lentils", which means without condiments, because on Fridays during Lent people used to abstained from eating meat.
Lentils can be paired with both whites and young or aged reds. Compared to young wines, Crianzas are characterized by two years of natural aging, of which at least 6 months must be in oak barrels.
Service temperature should be between 15 to 18º C, while in whites, a temperature between 10-12º C is recommended.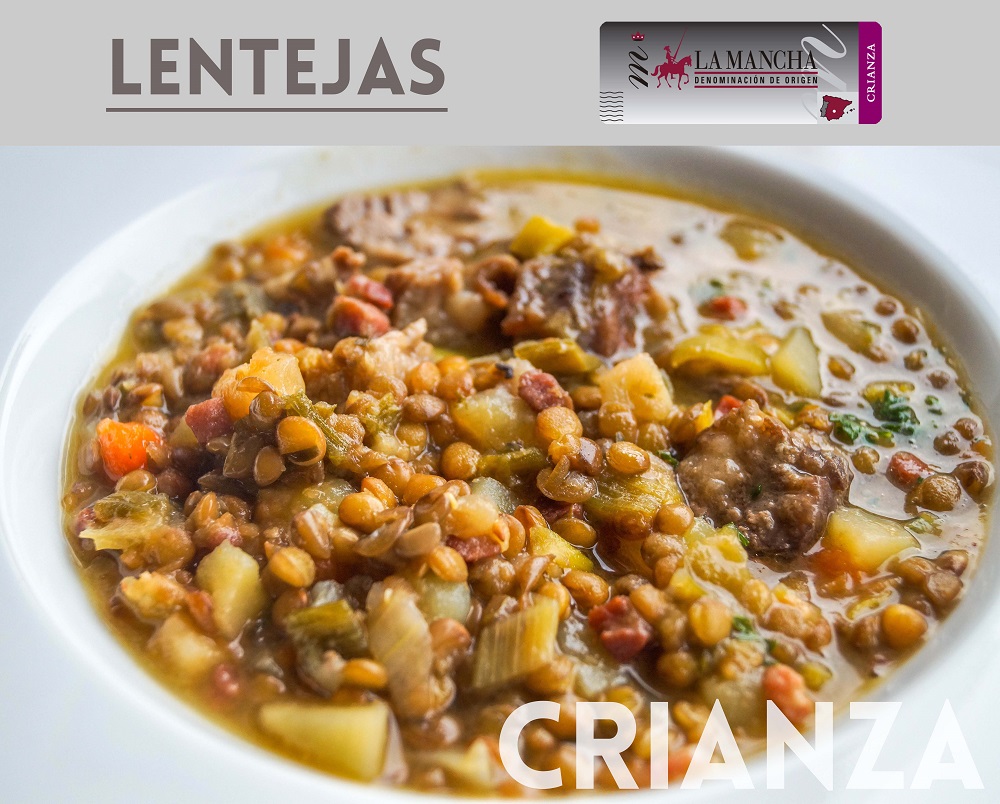 Wines of La Mancha and Lamb
Continuing the traditional line, the lamb with D.O. La Mancha has a prominent place, being one of the tastiest and most used meats in Spanish cuisine.

It matches with a wide variety of options, such as Cabernet Sauvignon, Merlot, Syrah, Petit Verdot, Cencibel or Garnacha, for example.
Almost all these varieties are newly implanted which have enriched the universe of red wines in La Mancha.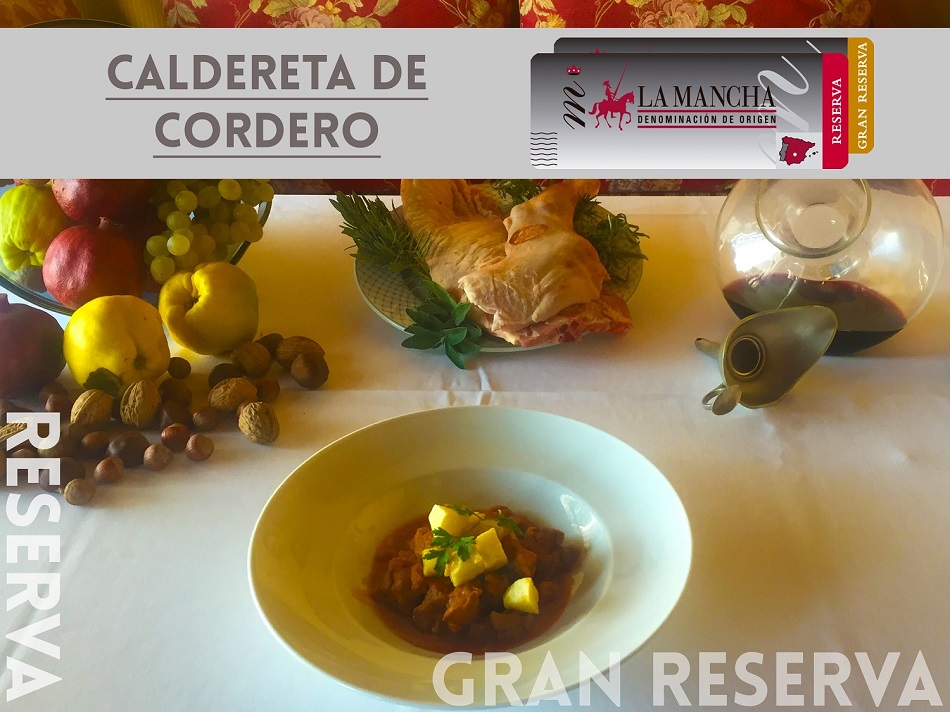 Nothing like a lamb stew accompanied by a full-bodied wine with aroma of barrel as a Crianza or Reserva, or even a Gran Reserva to face the rigors of thermometer. Reserva wines are characterized by three years of natural aging, of which at least 12 months must be in oak barrels and the rest in the bottle, while Gran Reserva wines have five years of natural aging, of which at least 18 months in oak barrels and the rest in the bottle. In both cases, the recommended service temperature is 15-18º C.
Ringing in the attic
One of the undoubtedly most grateful dishes of winter is the "madrileño" stew, whose recipe has been handed down from generation to generation, slightly modified depending on the areas of Spain where it is served.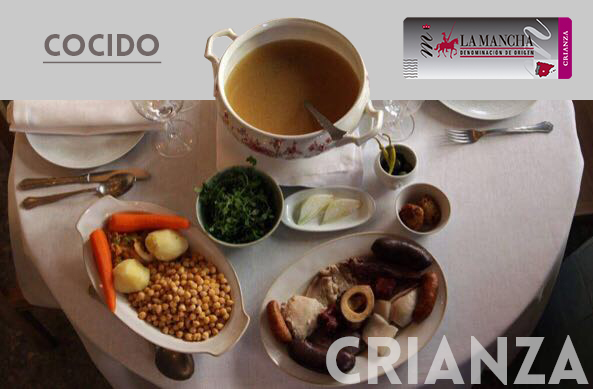 It is difficult to date its origin but, according to experts consulted, it could be traced back to the Middle Ages, coming from a stew from Sephardic Jews known as "adafina", made from lamb meat and spices such as ginger and cinnamon.
It is also later associated with the "Olla Podrida" (rotten pot), typically from La Mancha and famous for the abundance and diversity of ingredients, present in the Spanish Golden Age and in its literature, with several mentions again in Don Quixote.
The stew used to be served plitting the ingredients in three parts: the broth, the chickpeas with vegetables and ending with the variety of meats.
Currently is usually served only in two steps: first a noodle soup, and secondly the chickpeas, vegetables and meat. We recommend pairing with a red wine with slight oak aging, a young wine for instance, served between 10-12º C.
Autumn chestnuts and wine
To conclude, a sweet dessert based on chestnuts, a seasonal gourmet product that can be enjoyed in countless ways such as flans, mousses, brownies, soufflés or the traditional chestnut cream, ideal to accompany cheesecakes or yogurts for example.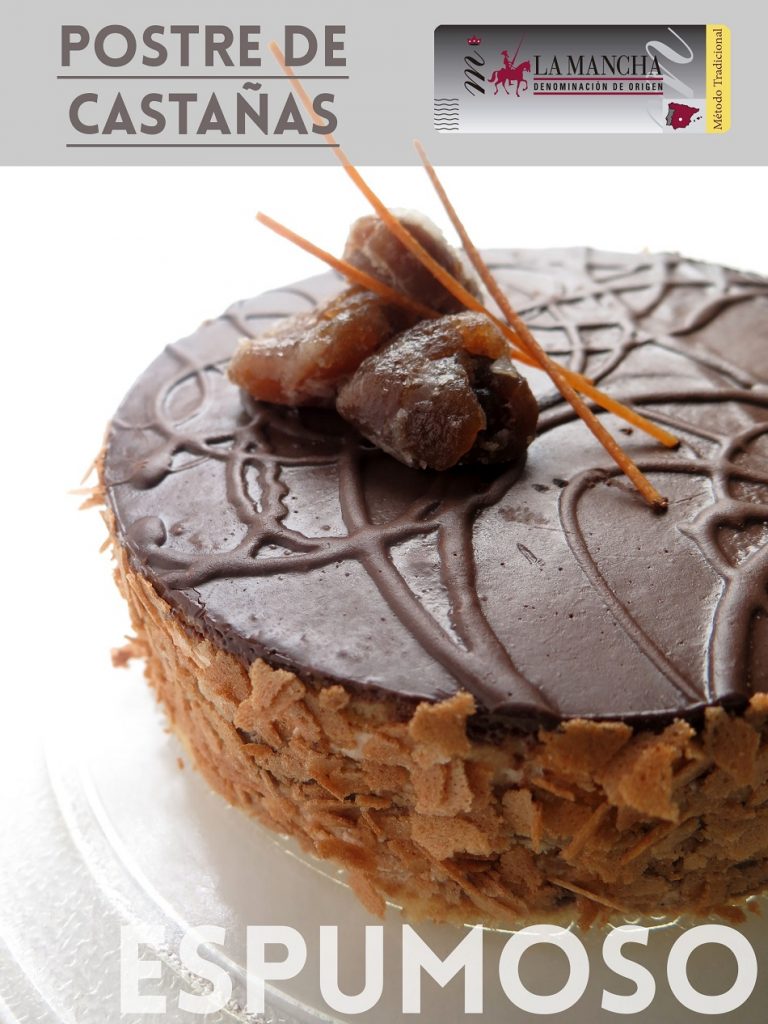 The option of a sparkling wine (semi-dry) made with the traditional method will end up rounding off a cold autumnal after-dinner.