With the arrival of spring and heat, many of us begin to think about the possible amount of weight gained during the winter period and seek a solution to that possible overweight to get ready for the summer, thinking about our summer clothes, but especially in the garment of excellence during summer: the bikini and the swimsuit.
This is what we call in Spain the "Bikini Mission".
There are many recipes that we discover and that are offered to us these days in order to achieve the desired weight reduction during this pre-summer period. Some are more successful than others, but we need to have clear that the accumulation of fat in our body is the result of a positive energy balance.
Therefore, to ensure a balanced energetic diet level is interesting quote our most famous countryman, José Mota, who has this say: "Las gallinas que entran por las que salen" ("The hens that come in exchange for those leaving"). It is important to know what our daily energy needs are and the calories inputs of the foods we eat, so that our diet suits accordingly our needs.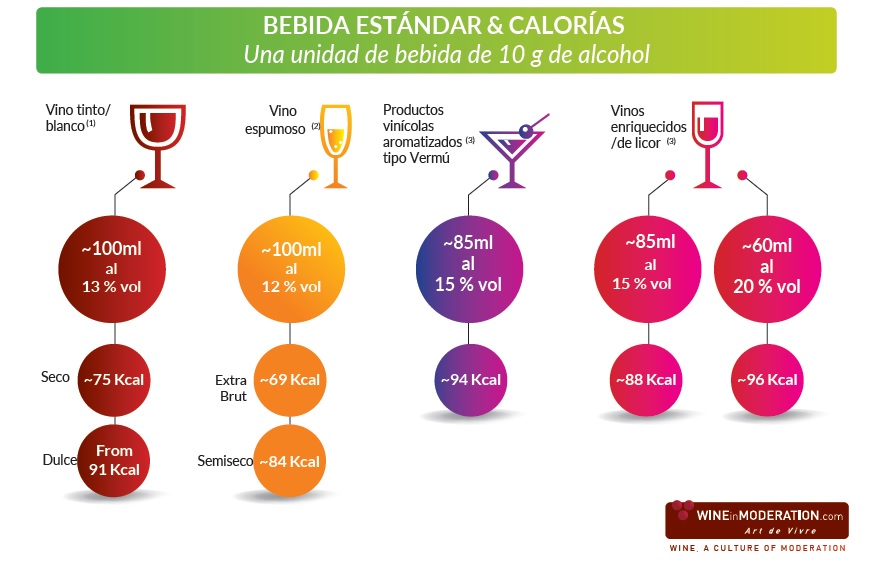 In many cases we can avoid overweight just by being aware of this data because we can get change / adapt our eating habits and prevent abuse of certain foods with a high calorific power, which are often related to other parallel effects. Of course any major changes in the diet of a person should be done and controlled by a nutrition expert. We must avoid using those diets that are provided by recommendation of others.
What I want to show below are the details of our daily calorific needs and how wine contributes to these energy inputs. Not only solid foods provide a calorie balance: all liquid foods, except water, contribute more or less to the amount of calories consumed in the diet, and sometimes they are quite high.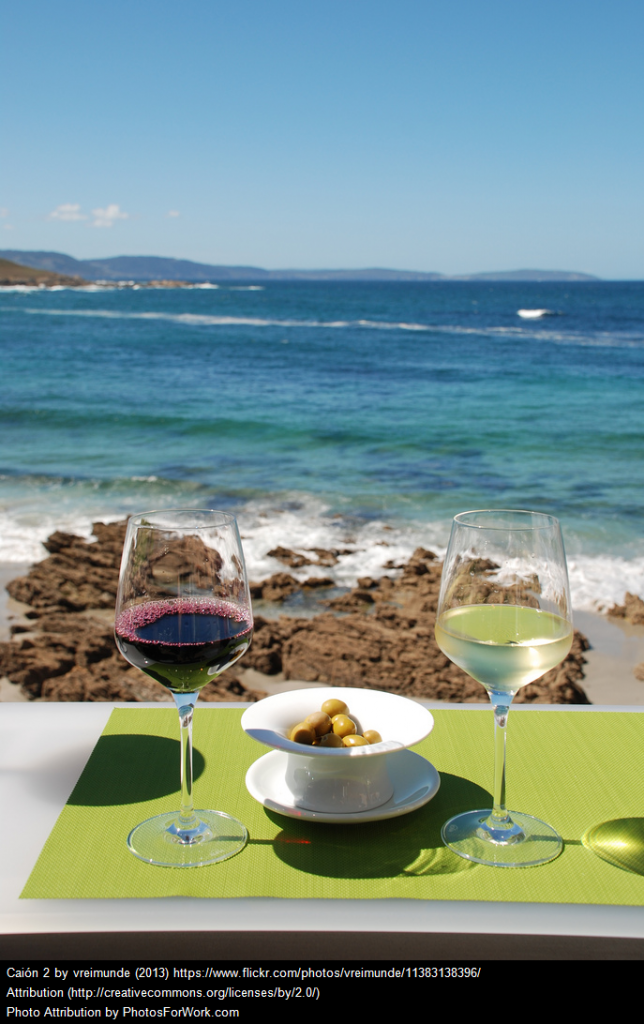 Recommended calories intake
To determine the proper amount of calories from our diet, we need to watch out the different factors that influence it. The calculation is performed first by defining the basal metabolic rate (BMR) which according to the World Health Organization (WHO) is the result of the daily calories needed to maintain the basic functions of our body, depending on age, weight, height and sex. From the data of BMR, the WHO establishes a correction factor to define the amount of calories to be eaten based on the level of physical activity of the person, which varies between 1.2 for sedentary people to 1.9 for those who perform an important physical activity.
There are numerous calculators on the network where you can perform the personalized calculation. This is just one example:
Intake of a glass of wine
Wine is a water-alcohol mixture in which water is the main component (86-87%) and ethyl alcohol or ethanol is the second one. Depending on the type of wine, we can talk about an alcohol content between 9 and 15 %. The other components of wine (20-30 grams per litre) correspond to the dry extract of wine and its volatile components responsible for the flavours. Of all these compounds, ethanol is responsible for the energy supply of the wine and the rest are just found in trace amounts or it is just water, except for semi-dry and sweet wines, where you have to know what the sugar of content is. You also need to take into account that semi-fermented wines, so fashionable in consumption today, must be kept in mind since their energy intake is similar to a dry wine, and the lack of ethanol replaces the natural sugar of the grape juice that has not fermented.
Infographic www.wineinmoderation.eu
Focusing on dry wines, which are the most commonly consumed, your calories intake will depend solely on alcohol content. Thus, for example, a glass (about 100 ml) of white wine 11.5% vol. provides 64 Kcal, a pink wine (12.5% vol.) 70 Kcal and a red wine (13.5% vol.) 75 Kcal. These values represent approximately 2.5% of the recommended daily calories suggested intake in a man and a 3.5%  in a woman.
Calories intake of other beverages
If we consider other beverages usually consumed as an aperitif or to accompany meals, the calorie contributions to your diet are as follows:
Can of beer (330 ml): 150 Kcal.
Combined with cola Ron: 175 Kcal.
Can of cola (330 ml): 139 Kcal.
Drink Can Orange (330 ml): 172 Kcal.
From these data, we can conclude that a change in our habits when choosing a drink for aperitif or to accompany meals, like the option of a glass of wine, we can provide a lower caloric intake compared to other drinks and besides we can also avoid the consumption of carbonated beverages which in certain cases may cause digestive problems and even lead to gastritis if consumed in big quantities.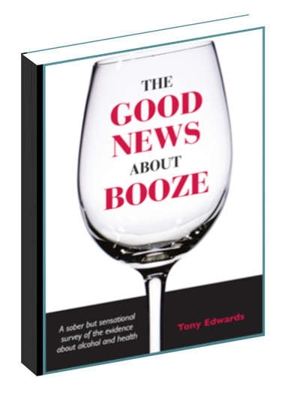 Alcohol: Is it really fattening?
There are many alerts that tell us about the dangers of excessive alcohol consumption and its effects on people's health. Of course, as with any other product, consumption abuses are not good, but alcohol in moderate amounts and it accompanied by other substances, such as wine, it is beneficial thanks to its preventive activity, and it can actually be a good ally for our health.
It is difficult to find a common front on whether alcohol is a friend or an ally of our health. One of the proposals for the benefits of alcohol is to be found in 2013, when  Tony Edwards, science writer and British journalist, in his book The Good News About Booze, dismantled all our ideas, erroneous in his judgment, about alcohol, especially on whether the available calories in alcohol are used by the body as such.
According to Edwards alcohol is bad due to the serious consequences that it might have on the liver when taken in high doses, but in his words, there is no scientific evidence to support the idea that alcohol is fattening. Combustion techniques of food to determine its calories content may not be valid for alcohol, because it is a highly flammable chemical that when consumed very quickly indicates a high presence of calories.
For its findings he conducted a study with 20,000 women during thirteen years, and proved that the ones that had put on more weight, were those that consumed less alcohol, provided that the alcohol and sugars were not consumed "hand in hand" as it can be the case of a beer.
More than water and alcohol
While water and alcohol are the predominant components in the chemical composition of the wine, there are many substances present in wine in the so-called "dry extract of wine," that have been recognized for their excellent preventive properties of people's health.
According to numerous studies in the field of Medicine, the presence of various polyphenolic substances (flavonoids, resveratrol, quercetin, epicatechin…) in wine make of it a food with antioxidant potential that prevents the development of various diseases, such as cardiovascular cancer and neurological basis diseases,
In short, we can ensure that a moderate consumption of wine can be a great ally for our health and using it as a substitute (if you still don't have it clear) for other drinks to accompany meals, we can reduce the calories intake of our diets.
We hope that the data discussed above provides you the information necessary to make the choice to include a glass of wine in your daily eating habits. Enjoy this spring with wines of La Mancha and reap the benefits they offer within a varied Mediterranean diet.
If you want to know more details about a responsible consumption of wine, do not stop visiting the web www.wineinmoderation.eu