One of Spain's great attractions is its delicious cuisine. In fact, its famous Mediterranean diet is regarded as one of the best in the world, mainly for its great variety of recipes, which are very different across all the provinces and made with top quality ingredients. They're also very healthy. In this post we tell you about some of the most famous dishes in Spanish gastronomy. To make them even more delicious, we'll be discovering the best wines to accompany them, wines from the La Mancha Designation of Origin.
Paella
Paella is one of the most international of all Spanish dishes. It's a dish like no other, but it also has a multitude of interpretations throughout the world. However, the original recipe comes from the Valencia Region in the east of the country. Its main ingredients include vegetables (tomatoes, green beans and white beans), meat (usually chicken) and rice. You have to prepare it with love and follow all the steps to the letter to enjoy its delicious flavour.
Of course, wine is an ideal complement for enjoying good paella. This versatility of this dish has triggered a wide variety of versions that fall into three different categories: meat, seafood and mixed.
Paella with meat: Tempranillo young red. Its youthful, fruity flavour will match this dish perfectly.
Seafood paella: young white Verdejo. This variety has a great reputation in La Mancha, giving rise to very aromatic wines that are perfect for drinking with seafood paella.
Mixed paella: Grenache rosé or Airén white. They're ideal for this combination of seafood and meat. Their great intensity and freshness make them the best companions for this dish.
Spanish omelette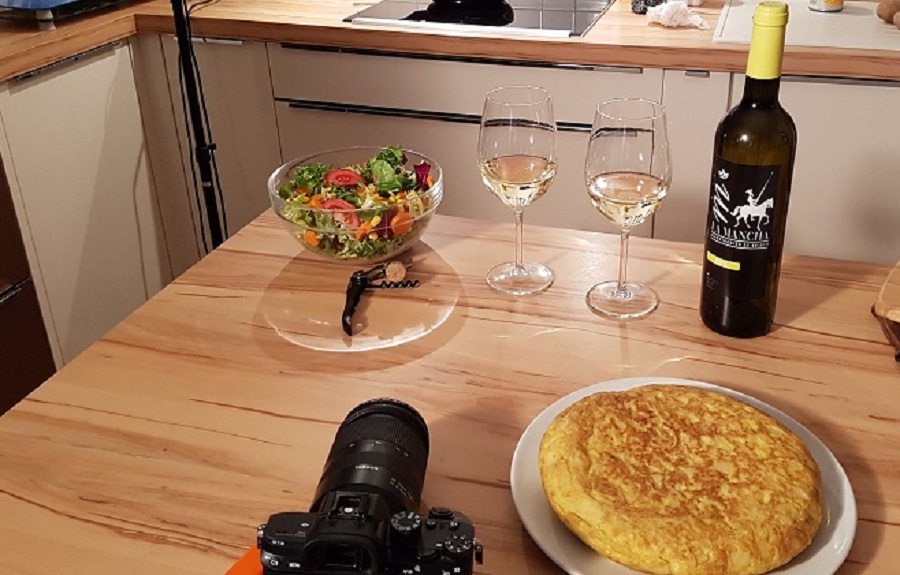 There's no doubt that tapas are one of the country's great gastronomic attractions. One of the most popular is the potato omelette, also known as Spanish omelette, whose flavour and texture have conquered palates across the world. Plus, like paella, it comes in an almost endless number of versions, adapted to suit everyone's tastes. However, the two most popular versions in Spain are the potato omelette either with or without onion.
One of its ingredients, eggs, means it's tricky but not impossible to find the perfect pairing. The huge variety of wines found in the La Mancha Designation of Origin allows you to find the perfect one.
For omelette without onion, the ideal accompaniment is a traditional white, red or rosé wine; in other words, a wine somewhere between young and aged that has been stored in a tank or clay vessel.
For the omelette with onion, it's best to opt for a red wine aged in the barrel. This means that the strong flavour of the onion will be offset by the intensity of these kinds of wines. You could go for a coupage of Tempranillo and Cabernet Sauvignon varieties.
Iberico or Serrano ham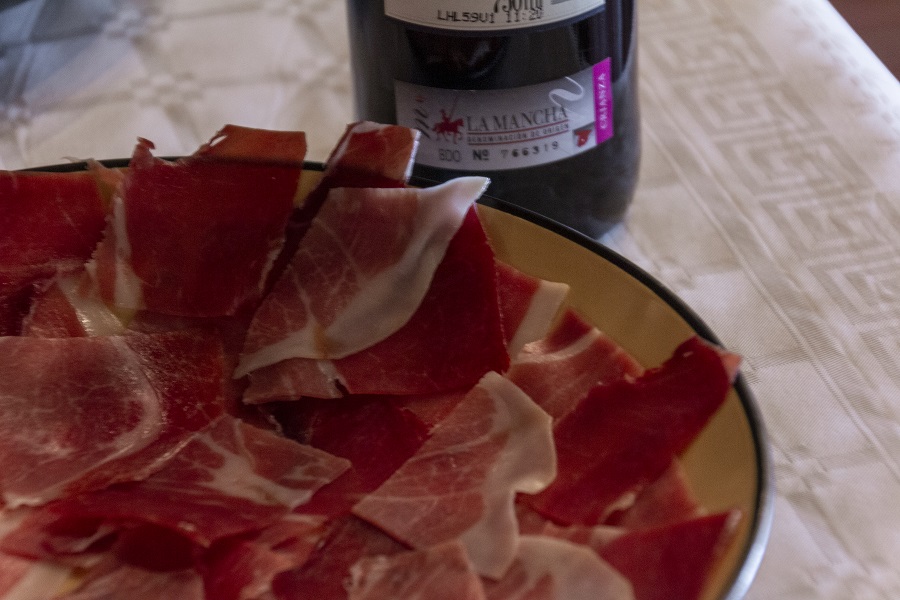 This is an exceptional and delicious product that no Spanish pantry can be without. It's also a classic in the country's bars and restaurants, usually eaten as a starter before other heartier dishes. As well as its addictive flavour, it has very beneficial health-giving properties. In Spain, ham comes in two types: Iberico, if it comes from the Iberico pig breed, and Serrano, if it comes from white pigs.
Both products are fantastically high quality, so you need to harmonise them with equally great wines. So, any ham, whether Iberico or Serrano, has a Manchego wine that's up to the task. Cut preferably into very thin slices, you can try it with its traditional pairing, a red wine, or innovate with an exquisite La Mancha sparkling wine. These are certainly gourmet pairings that you'll want to repeat again and again.
Croquettes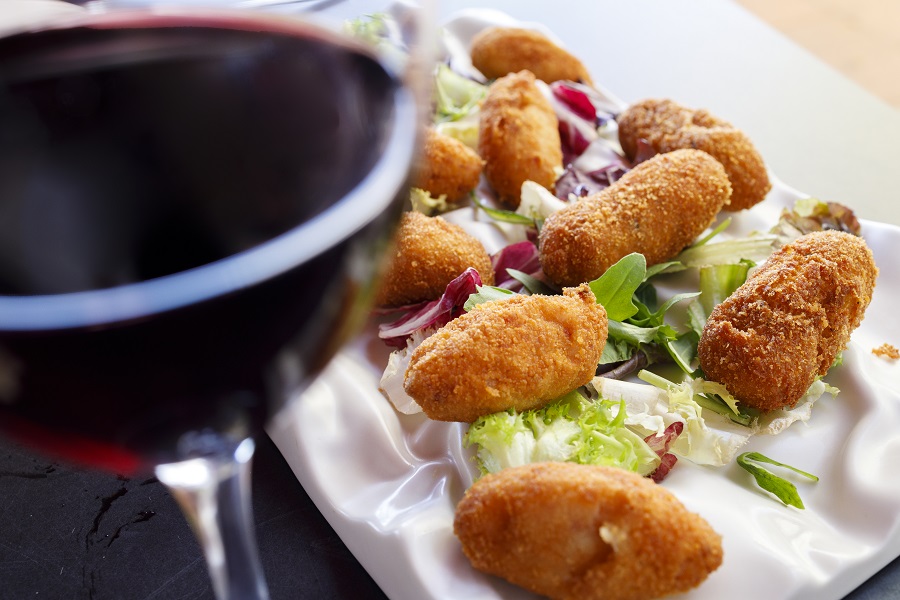 This is probably the least international dish on this list, but it's essential to Spanish gastronomy. It consists of a portion of a béchamel-based mixture featuring various types of ingredients according to preference, then coated with breadcrumbs and fried. The result is an intense and creamy flavour inside a surprising crunchy outer layer, and you won't be able to stop eating. Plus, each type of croquette must be properly paired.
For example, ham croquettes demand structured wines with a notable tannin content, like a young Syrah or Tempranillo red wine, whereas chicken croquettes, being lighter on the palate, can be accompanied by a good sparkling wine. Cod croquettes can go well with a young or cask-aged Chardonnay, while boletus and cheese croquettes, because of their strong flavour, require powerful wines, such as a Tempranillo Crianza or Reserva.
Don't forget that both the meals and the wines must be of the highest quality. So make sure you use top quality ingredients and choose the best wines, the ones with a back label that bears the La Mancha Designation of Origin seal.